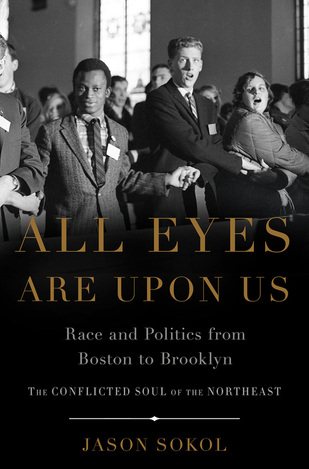 "
All Eyes Are Upon Us
is a prescient book....Ambitious, engrossing, analytically lucid....It is certainly possible that when this decade ends it will have confirmed the relevance of W. E. B. Du Bois's grim prophecy about America's everlasting racism. Jason Sokol's exceptional
All Eyes Are Upon Us
prepares us for just such a possibility."
-David Levering Lewis,
New York Times Sunday Book Review
The paperback edition of
All Eyes Are Upon Us
was published in April 2017.
A finalist for the 2015
Chautauqua Prize
.
Read Jason's op-ed in
The New York Times
:
The Unreconstructed North.
All Eyes Are Upon Us
was named one of the best books of the year about the 1960s:
The Daily Beast
.
It is also an
Editors' Choice
in the New York Times Book Review.
Check out where the book falls on New York Magazine's
Approval Matrix
.
All Eyes Are Upon Us
is on the Nonfiction Longlist for the 2015
Brooklyn Eagles Literary Prize
.
•
Recent articles
related to the book:
The Story Behind the Book
, the Boston Globe.
A Q & A with Jason on
Salon
.
See Ed Brooke's Christmas letter on
Slate's "The Vault."
Jason's op-ed about Abraham Ribicoff on
Time.com
and the
History News Network
.
Jason's latest article on Jackie Robinson
is part of the Smithsonian's "What It Means to Be American" Project.
All Eyes Are Upon Us was named one of Rhode Island Public Radio's
Best Books of 2015
.
Read the interview with the
Oberlin Review
.
•
Reviews
of
All Eyes Are Upon Us
:
-"Carefully balancing an appreciation of the symbolism of interracial politics with recognition of the forces that remain untouched by it,
All Eyes Are Upon Us
reminds us — if we need reminding — that the events unfolding in Ferguson, Mo., Staten Island and too many other communities are embedded in a complex and problematic history of both racial advances and obstacles to progress."
-
The Washington Post
-"All Eyes Are Upon Us
is about the sizable gap between the North's ideals and its reality."
-
The Boston Globe
-"
This groundbreaking history shows a civil rights movement beyond Birmingham, Selma, and Memphis. An important new voice in 20th-century history, Sokol expands the civil rights story to include segregated schools and racial politics in the Northeast."
-
The Daily Beast
-"In ten engaging chapters, Sokol traces seventy-five years of the northern mystique's contradictions...Sokol builds a careful argument throughout on the importance of so delicate a discourse, one that remains strong even in the face of gross material inequalities and active political resistance."
-Journal of American History
-"Sokol's well-written and substantive narrative recounts the blistering racial prejudice that lingered there, despite a reputation to the contrary. The author deftly illustrates the deep-seated conflict between progressive and reactionary elements over segregation that played out in that region's political arena....Ultimately, the book provides a much-needed reminder of the difficult battles discrimination's enemies faced, even in the heart of what was supposed to be an already color-blind society."
-Choice
-All Eyes Are Upon Us
"complicates and confounds widely accepted narratives of victory over racism and of racism's devious resilience...This honest, conscientious book inventively 'weaves together these warring strands' of a nation that, as Sokol puts it, 'has been able to achieve stunning progress' but is still 'unable to absorb the new story it has authored.'"
-
Bookforum
- "You will certainly come away with a better understanding of the continuum of racial discomfort that defines American society as it lurches between multi-racial progress and disturbing disappointment."
-
The Kansas City Star
-"Sokol unfolds the uneasy and ugly paradox of race relations in Massachusetts, Connecticut, and New York...Scholars and readers interested in the reality of nationwide segregation will benefit from Sokol's work and put it alongside Thomas Sugrue's
Sweet Land of Liberty
."
-
Library Journal
"Jason Sokol's account of the struggle for racial equality in the Northeast following World War II reveals a region that has, paradoxically, served the nation as a model of idealism, yet clashed fitfully, sometimes violently, over whether and how to translate those ideals into action. What makes Sokol's study so fascinating—and important—is the way it challenges the 'mystique' of Northeast progressivism while also charting that mystique's shaping impact on a region committed to closing the gap between democracy and discrimination. All eyes should be upon Sokol's illuminating new history."-Henry Louis Gates, Jr., Alphonse Fletcher University Professor, Harvard University
-With "sharp research and insights," Sokol "exposes the troubled truth about the North's racial integration."
-
Kirkus Reviews
"ALL EYES ARE UPON US is an original and insightful exploration of the recent history of America's paradoxical racial soul: simultaneous promise and advance on one side, and disillusionment and retrogression on the other. Highly deserving of a wide readership, this is an engagingly written examination of the history of racial politics in the Northeast as a lens to illuminate this enduring tension."
-Waldo Martin, Morrison Professor of History, University of California, Berkeley
- "In
All Eyes Are Upon Us
, Sokol examines how the Northeast, in the years following World War II up to the present day, has struggled to live up to its legacy as the birthplace of abolition and political liberalism. It's a story of contradictions and conflicting impulses."
-
Daily Hampshire Gazette
-"Sokol uses an impressive variety of official documents, court transcripts, letters to the editor and speeches, along with recollections of participants he himself has interviewed. The combination of historical and journalistic research allows him to demonstrate the enormous gap between the Northeast's political ideals and its enduring racism...He also allows the perceptions of many participants in this history, major and minor, to shape and deepen his own."
-
History News Network
-"
All Eyes Are Upon Us
is an interesting introduction to the complexities to northern race relations and the myth of northern color-blind benevolence."
​-American Historical Review
•
More articles
:
-Read Jason's op-ed in the
New York Daily News
.
-Read an excerpt from the book in
Salon
.
-Read an interview with Jason in the
Arts Fuse
.
-Listen to a podcast:
New Books in American Studies
.
-Read the
Springfield Republican feature article
.
-
"Our Better Angels,"
from the UNH College Letter.
-Read about Robert Carter and All Eyes Are Upon Us in the
Newark Star-Ledger
.
-
"A Tangled History,"
The Sound (NH Seacoast).
-Read the
New Haven Register
article:
"Sokol Hopes We Can Keep Our Eyes on the Prize"
.
-Read the
New Haven Independent
feature article.
-
Christmas Gifts for Readers, Whether They Lean "Red" or "Blue,"
Pittsburgh Tribune-Review.
-
Foster's Daily Democrat
.