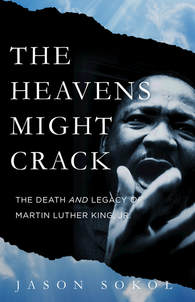 On the list of 6 books to read upon the 50th anniversary of King's assassination
. -
Time
-Read Jason's article in the
Washington Post
on American racism from 1968 to 2018.
-Read Jason's article in
Time
on King's global dream - of a world without walls.
-Read a Q & A with Jason in
US News & World Report
.
-Read an excerpt from the book on
Literary Hub
.
Reviews
:
"Using a wide range of sources, from college newspapers to oral histories, Sokol dramatically demonstrates that even as King was canonized, factions split and fought over his legacy to advance their own visions and agendas." -National Book Review "Hot Book"
"This striking and complex new work looks not so much at King himself as it does at the impact of his death and how it opened a wound in the country that has yet to heal." -Nina MacLaughlin, Boston Globe
"Civil rights scholar Jason Sokol examines how America and the world responded to King's assassination, some hoping to redeem King's sacrifice through non-violent pressure for change but many...preparing for full-on battle." ​Barnes & Noble Review
"Comprehensive and illuminating...
Sokol's
The Heavens Might Crack
should serve as a critical reminder of what Americans are capable of. This work is an important addition to an already impressive library of civil rights narratives and Martin Luther King biographies." -Pop Matters
"In exploring responses to King's assassination in the hours, weeks and months that followed, Sokol talks to people whose visceral reactions to the civil rights leader's death leap from the page in vivid detail." -Sheila Poole, Atlanta Journal-Constitution
"This is a history book, to be sure, but it also feels quite meditative, making it the perfect read for those who remember and those who can't.
The Heavens Might Crack
is highly recommended. You'll be grabbed by it in the first minute." -
The Bookworm

"Sokol's rigorous analysis of how differently both whites and blacks reacted to King's death tells us a great deal about the rampant divisions that firmly mark American society along racial lines: both historically, and in our present age....a well-crafted and thoroughly-researched tome." -J.P. O'Malley, Sunday Independent
"A highly readable volume that will appeal to a spectrum of scholars, students, and the general public."
-
​Library Journal (Starred Review)
"Drawing on archival sources, oral histories, interviews, and local, national, and even college newspapers, Sokol offers a richly detailed analysis of the impact of King's death on blacks and whites of all stripes… A revealing examination of how a 'courageous dissident' became a martyred saint." -Kirkus Reviews
"Sokol is an assured writer, deploying revealing, striking anecdotes....This book offers valuable yet painful insight."
-Publishers Weekly
"Sokol offers a well-written, new perspective on his life here that all readers interested in twentieth-century history and the story of civil rights activism will find insightfully informative."
-BooklistAdvance praise:
"Jason Sokol's book is not a biography of MLK, it is something more: a weaving of King's life both in the hostile contemporary reactions he evoked and, 50 years later, in the mythic adoration of a dream--all the while revealing the deep racial antipathy that persists in American life. A most powerful book: well written, deeply researched, thoughtful, and honest."―
Nick Salvatore, Cornell University
"
The Heavens Might Crack
is an important, timely, and invigorating addition to the vast literature on Dr. Martin Luther King Jr. By examining the evolution of King's legacy after his death with great care and deft analysis, historian Jason Sokol offers new insights into the meaning of a life that continues to shape contemporary American democracy."
—Peniel E. Joseph, author of Stokely: A Life
​
"Jason Sokol has done it again! Following his insightful studies of white southerners in the civil rights era and of racial politics in the North, Sokol skillfully weaves the myriad reactions to Martin Luther King's assassination to provide a major perspective on the past half-century of race in the United States. Beginning with the day of King's murder, when most historical accounts of Martin Luther King end, Sokol underlines how King's death shaped our future and reveals why his assassination was far more than the death of one man. In vivid prose rooted in deep, wide-ranging research,
The Heavens Might Crack
is an indispensable read for all who would comprehend the past and care for our future."―
Harvard Sitkoff, author of King: Pilgrimage to the Mountaintop
"In this powerful, moving account of King's death and its aftermath, historian Jason Sokol plumbs the depths of white racism to reveal a dark chapter in the nation's history that many of those who today celebrate King would like us to forget: the vicious attacks and intense loathing directed at King during his life; the callous, celebratory reactions to his assassination among a shockingly large segment of white America; the contentious battles over his legacy and public memory in the years that followed; and the cynical and self-serving appropriation and distortion of his message by the Right today. Coming at a moment when an open racist occupies the highest office in the land and white terrorists proudly march in our streets, Sokol's book helps us understand how we got here, and how the forces of hatred and bigotry that ended King's life were never fully extinguished but remain very much with us today. A must read."
—Andrew W. Kahrl, University of Virginia
"Jason Sokol details with aching clarity how King's assassination and the urban uprisings of April 1968 sent shock waves across the landscapes of America's racial crisis and the world's revolts. Whites, taught to fear the "headline-hunting high priest of nonviolent violence," celebrated King's death and armed themselves for race war. Militant Blacks, having warmed to King's crusade against poverty and the Vietnam War, bitterly rejected his nonviolence. Politicians who spurned King in life immediately began to smooth an unthreatening icon for a post-racial America, a portrait at sharp odds with King's jagged opposition to inequality and militarism. With astonishing sweep, Sokol also recovers thousands of others who redeemed the suffering by re-dedicating themselves to peace and social justice: counter-rioters who prevented even more deadly violence in America's cities; university students who sat-in to protect the rights of maids and janitors; congressmen who pushed through landmark gun-control legislation; antiwar protesters in Berlin, Paris, and London; and Africans who proclaimed King a "Son of Black Africa" as they denounced American racism and South African apartheid. The heavens might have cracked, but Sokol's not-too-distant mirror shimmers with intensity and the recognition of King's continued relevance to our own travails."
-Thomas F. Jackson, author of From Civil Rights to Human Rights: Martin Luther King, Jr., and the Struggle for Economic Justice